Wireless earbuds provide convenience and ease to your everyday lives by giving us a hands-free listening experience. While the audio quality does remain a non-negotiable check point for purchasing earbuds, one should also look for the fit and battery life. As you don't want something that pokes your ears all the time or just falls off every time you move, having a secure fit becomes important, when it comes to earbuds. Similarly, since bluetooth earbuds run on battery, you need to make sure that you choose the ones which allow you to enjoy your music without putting it away too soon, just because the battery is gone.
Here is a list of best earbuds in India which offer a perfect fit and come with a good battery life. Choose from the following as these will never disappoint you:
Airdopes 441 Pro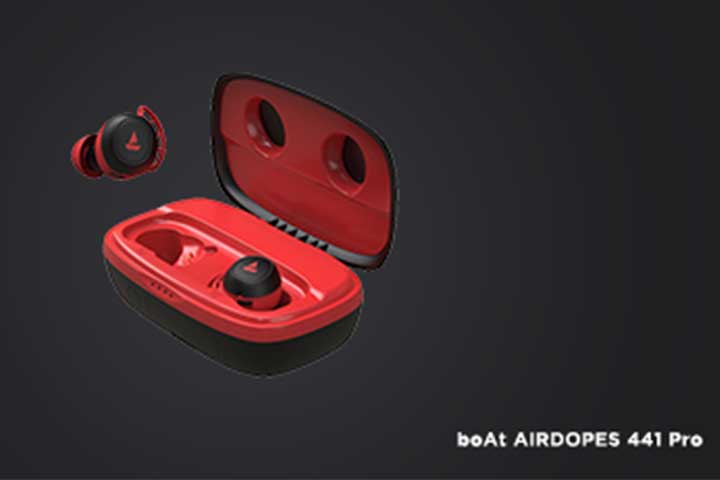 Get ready to experience the true power of blissful music with these elegantly designed wireless earbuds! Lightweight in built, they offer a secure fit which makes them your adventure partner. So hit the gym, do plunges, jump around or go on your trek with your favorite tune playing comfortably in your ears.
They even support IPX7 water and sweat resistance which keeps them protected against any splashes or sweat. So sweat freely without worrying about it harming your earbuds. The capacitive touch controls further add convenience to the overall listening experience. You won't have to reach out to your mobile phone just because you want to change a song or adjust the volume.
The 6mm drivers pump out flawless sound which will keep you motivated and pumping!
They offer a massive 150H playback time (with the charging case), which means that you can fully immerse in your music without worrying about the battery getting exhausted too soon. Equipped with the Insta Wake N Pair technology and Bluetooth V5.0, they hardly take any time to connect to your device and give you a smooth and steady connection.
Also Read: How To Synchronize Your Smartwatch With The Smartphone
Skullcandy Sesh
Stylish and Smart – these bluetooth earbuds are designed for the ones who like to carry their music everywhere they go! The noise-isolating fit gives you a blissful listening experience. Lightweight in design and classy in finish, these earbuds know how to pack a punch. They deliver a powerful sound which leaves you amazed.
They offer up to 3H of battery and provide an additional 7H with the charging case. This means they are ideal for your routine work like office or workout or leisure listening. They come with an IP55 rating which allows you to use them worry-free.
Experience convenience at fingertips with impressive controls which allow you to change songs, adjust calls and manage volume without any much effort!
Oppo Enco X
Feel the power of your beats with these in ear wireless earbuds. They offer a snug fit which makes using these earbuds a delight. Each earbud is extremely lightweight, weighing merely 4.8g which makes them pretty comfortable to wear even over long listening sessions.
The 11mm dual-driver setup allows them to blast perfect music which fills your heart. It doesn't matter what it is that you listen to, these earphones will definitely do complete justice to your every tune and note. Fine tuned in collaboration with Danish High-end audio brand Dynaudio, these earbuds will never disappoint when it comes to the audio quality.
They are even packed with Active Noise Cancellation which allows you to fully immerse in your music or listen clearly to your audiobooks or podcasts, without getting distracted by the surrounding noises. And if you want to be aware of your surroundings, they also support a Transparency Mode.
With ANC turned on, you get a battery life of up to 4 hours (single charge) and 20 hours total with the charging case. If you don't use ANC, the numbers are bumped up to 5.5 hours on a single charge and 25 hours in total. They also support wireless charging – it's as simple as placing the charging case on a charging pad.
Also Read: Apple AirPods Pro: Top Headphones And The Reasons Why They Are Not In Demand
Realme Buds Air 2
Tuned by professionals, these wireless earbuds will make your favorite music come alive! Listen to trending songs or go retro, workout at the gym or give an awesome presentation to your boss on Video Call, these earbuds will keep you accompanied throughout it all!
The 10mm large DLC drivers make your music sound like it is supposed to sound.
Equipped with a noise-cancelling algorithm, these earbuds' dual microphones facilitate clear audio on calls for uninterrupted conversations. So bring on those gossip sessions, as there is nothing that's coming in between you and your friends now!
They offer you a playtime of up to 5H (single charge) and a total of 25H (with the charging case). And if you are ever in a hurry and your earbuds are running low on battery, just plug these in for nearly 10 mins and enjoy upto 120 mins of charge.
They come embedded with the new R2 chip which establishes a secure connection with your device and allows you to enjoy uninterrupted flawless music. It also increases usage time by 80%, while the high-capacity battery maximizes playback time.
Sony WF XB700
If you enjoy bass-rich music, then here's something that is specially designed for you! These bluetooth earbuds come loaded with many interesting features that make them worthy to be on this list. Ergonomically designed to contact three different points on your ear, they offer a secure, comfortable fit.
They feature EXTRA BASS for a seriously powerful, punchy low-end sound. This is a blessing for all the EDM lovers who often complain about their music not sounding right or there's something that's always missing in their favorite tracks.
You can use the buttons on the earphones to manage your playlist and adjust the volume.
The Bluetooth chip, which transmits sound to the left and right ears simultaneously, coupled with optimised antenna design ensures a stable connection and outstanding listening. Low audio latency makes for enjoyable viewing too.
With these, you can enjoy up to 18 hours of listening (9hrs Earbuds + 9hrs Carrying Case). They even support fast charging which means that just plug these in for 10 mins and you can enjoy up to 60 mins of blissful music!
Hope that you have made up your mind and have found the best wireless earbuds for yourself!
Also Read: The Best Alexa Skills That You Can Use On Your Devices