Nowadays large amount of people shoot or make videos for uploading and sharing on various social media services like Youtube, Vimeo, Facebook or Twitter, etc. However, when they spend much time to get the video done and are happy that it finally can be uploaded, but find that video file size is too large that upload error prompts up. It has to be noted that common used social media sites have limited the video size. Even your footage does not reach the maximum, long uploading process is also annoying. In this way, videos need to be shrank, not only for uploading, but also for saving storage space.
Best video compressors for you to choose in 2021
There are so many video compressors at present including desktop software and online tools. Usually, online video reducing service can support relatively smaller video size, so users have preference for video compressing programs. Here we pick out two video compressors after testing:
Developed by Digiarty software, it is an all-in-one video reducer that has overall well performance. Let's have a look at its pros and cons in the following lines:
Pros:
It downsizes video file size to a large scale, which is up to 90%.
It maintains video quality after compression. There is no visual quality damage.
It processes video with level-3 hardware acceleration, making the process 47 real-time faster.
It supports various inputs and outputs.
Cons:
It offers editing functions, but they are relatively basic.
To be more informative, the following is the way to use WinX Video Converter:
Step one: Install the program and launch it.
Step two: To load the video file, you can drag and drop it onto its interface. Also, Click on the "+Video" icon to upload video. More than one video can be uploaded at once.
Step three: Select a video format according to your need from "Output Profile". To make video size smaller, you have to pay attention to the codec of the original footage, ten choose a format compressed with a more advanced codec. For example, HEVC is good choice to replace H.264.
Step four: Just click the "RUN" button to shrink video file size.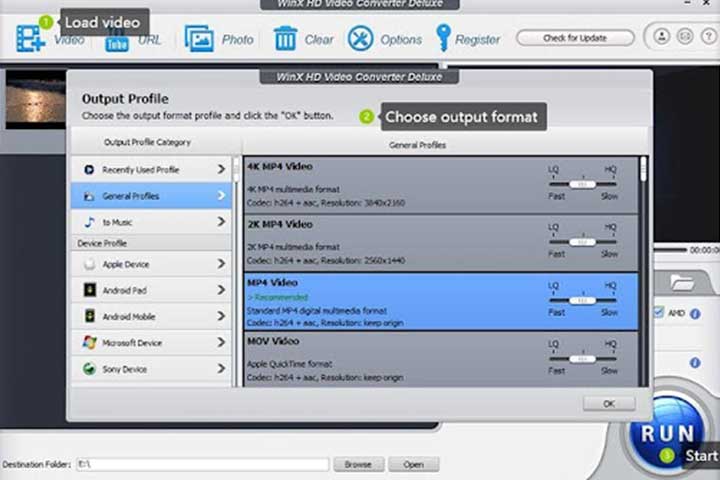 Additionally, there are some other setting that can help you compress the video. Click on the gear-shaped icon, and you can adjust bit rate, frame rate and resolution on the parameters. Besides, the editing functions provided will also help. You can crop the video image or cut out unnecessary parts to reduce video size.
2. HandBrake
HandBrake is known for its features of being a free and open-source video processing tool. What pros and cons it has? Check out below:
Pros:
It has different input formats for you to choose.
Relatively little quality loss after compression.
Cons:
It appears to be not so user friendly for the users who are inexperienced.
The output formats are less.
Summary
For uploading video to social media sites without barrier and saving limited storage space, video size is unavoidably inclined to be downsized. To choose a handy video compressor we have to focus on the compression rate, video quality and processing speed. Based on these factors, WinX Video Converter get a higher score. But if you are adept in dealing with videos, you can choose HandBrake as well.
Bonus Tips
There are also some other good video compressors like Freemake Video Converter and Uniconverter, etc.
There exist some differences between WinX Video Converter and HandBrake. The former compresses video file size larger while maintaining video quality more. The latter may has little quality loss after compression. And although HandBrake has the function of convert DVD files, an extra ripping tool is needed.
When you try to change the bit rate, frame rate of on video parameters, you'd better to be careful about that. Video bit rate has to be lowered with proper scale, because it will possibly make video unable to watch if its bit rate is downscaled too largely. In addition, the video frame rate is recommended to be left unchanged, because adjustment on it may lead to the situation that the video cannot be played smoothly. Lowering resolution is a relatively safe method to downsize video file size.
Also Read: Upload YouTube Video – Here How It Works